Services / Delivery & Installation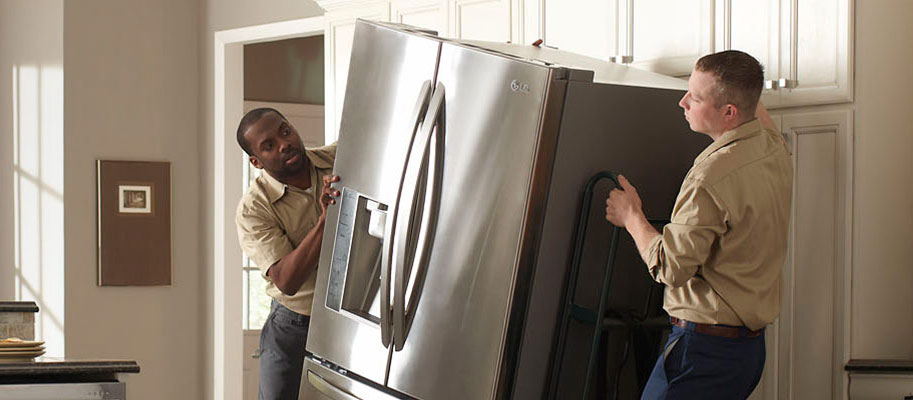 For any questions, concerns, or special requests, please contact us at:
Delivery and Installation
Available Monday – Friday:  9am – 5pm, Saturday: 9am – 1pm
Times may vary due to area of delivery
Our professional and friendly delivery team will delivery and install the products that you purchase from our store 5 days of the week locally. Here are a few reminders to make sure your delivery process goes on smoothly:
Please make sure there is a clear path for the appliance(s) from your driveway to the final destination of the appliance(s)
We are not able to alter or cut cabinets to make appliances fit nor are we able to perform major plumbing and electrical work. Please make sure that you measure cut outs especially for built-in ovens and cooktops prior to ordering appliances. Water lines for refrigerators are ¼" compression. Gas Flex lines for gas ranges and dryers are ½" MIP.
Please advise your sales associate if the appliances are to be delivered upstairs.
Our delivery team will call you prior to arrival of your property. If we are not able to contact you by phone at the time of delivery your delivery will be rescheduled another day.
Within 30 mile radius form store
Delivery and installation:
Includes haul away of old units

Does not include new hoses or accessories
$80… per appliance (additional $30 fee for upstairs delivery)
$30… each additional appliance thereafter

Accessories:

$20… one set of water hoses for washers
$20… ½" gas lines with adapters (5 feet)
$10… ice maker water line (5 feet)
$10 dryer vent hose (5 feet)
Available Monday – Friday  9 A.M. – 5 P.M. / Saturday 10 A.M. – 1 P.M.
Our service technicians have been in the industry more than 20 years. We service all major brands of refrigerators, washers, dryers, dishwashers, wall ovens, and ranges. Service call fee non-refundable.
$55.00… service call fee (standard appliances *Non-Refundable)
$75.00… service call fee (LG, Samsung appliances)